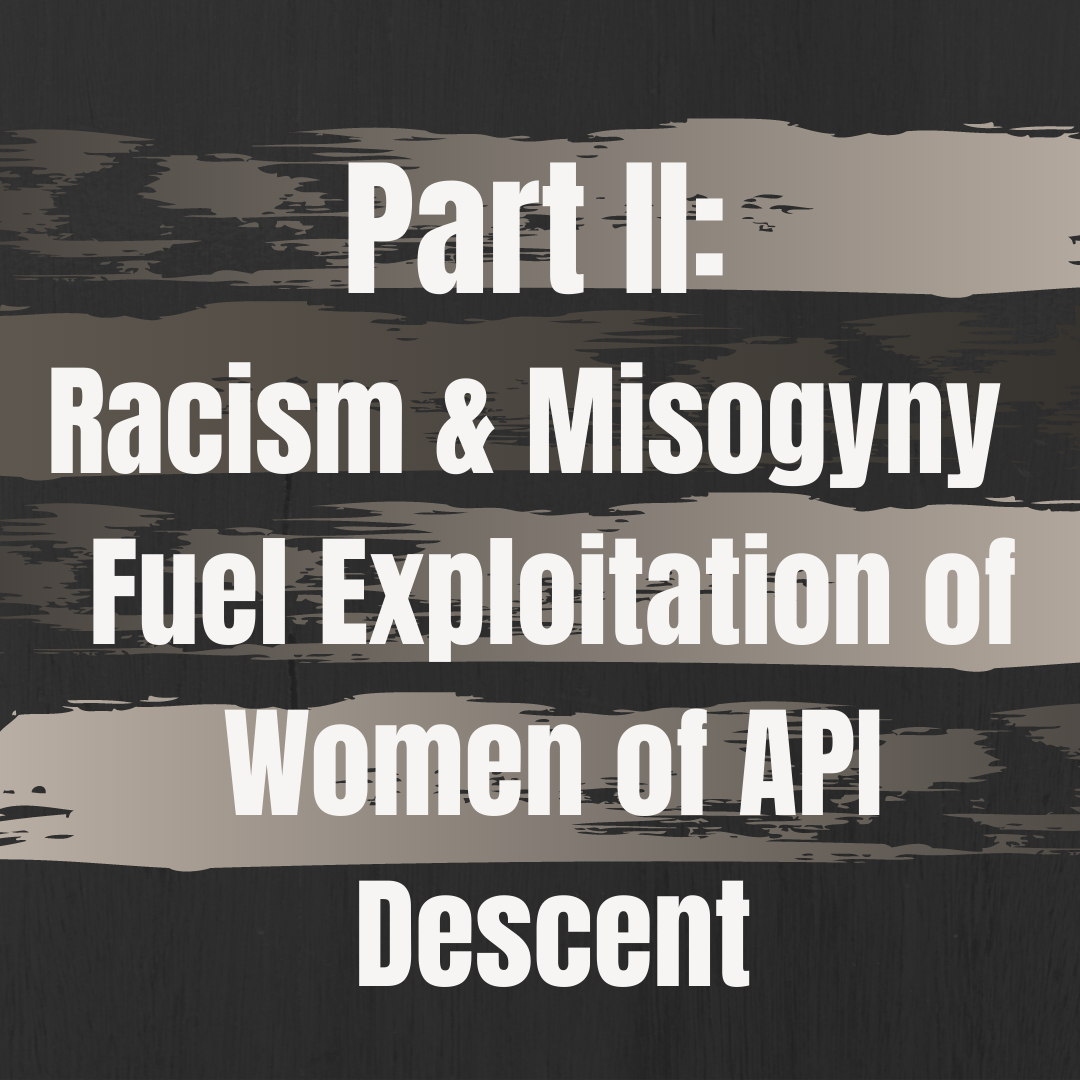 This is Part II of our two-part series: Racism & Misogyny Fuel Exploitation of Asian/Pacific Islander Women.
In this piece we are looking at misogyny's role in the exploitation of women of API descent.
In the aftermath of the murder of seven women (six of whom were of Asian descent) and one man at massage parlors and spas in Georgia, a spotlight shines on the nature of exploitation and the violence perpetrated against women of Asian/Pacific Islander descent.
To be abundantly clear, the murder of these people at Asian massage parlors/spas in two different cities is a hate crime against Asian/Pacific Islander women. The very nature of the crime and the comments of the perpetrator highlight that it was racialized, gender-based violence.
There is a heated debate as to whether this attack was racially motivated or gender motivated. It was both, so we cannot address one without the other.
The shooter claimed to have been getting rid of the "temptation" for his sexual addiction.
The motive is multi-layered and reflects the nature of exploitation and objectification of Asian/Pacific Islander women, specifically, and misogyny as a whole.
We must first ask ourselves two questions:
Why are women of Asian/Pacific Islander descent fetishized and seen as disposable to such an extent that an entire commercial sex sector (illicit massage businesses) is a leading industry in sex and labor trafficking in the U.S.? (See PART I FOR THE ANSWERS TO THIS QUESTION)
Why was it that this man thought it was acceptable to perpetrate the ultimate violence against these women instead of holding himself accountable to his own sexual issues? (We will answer this question in this piece)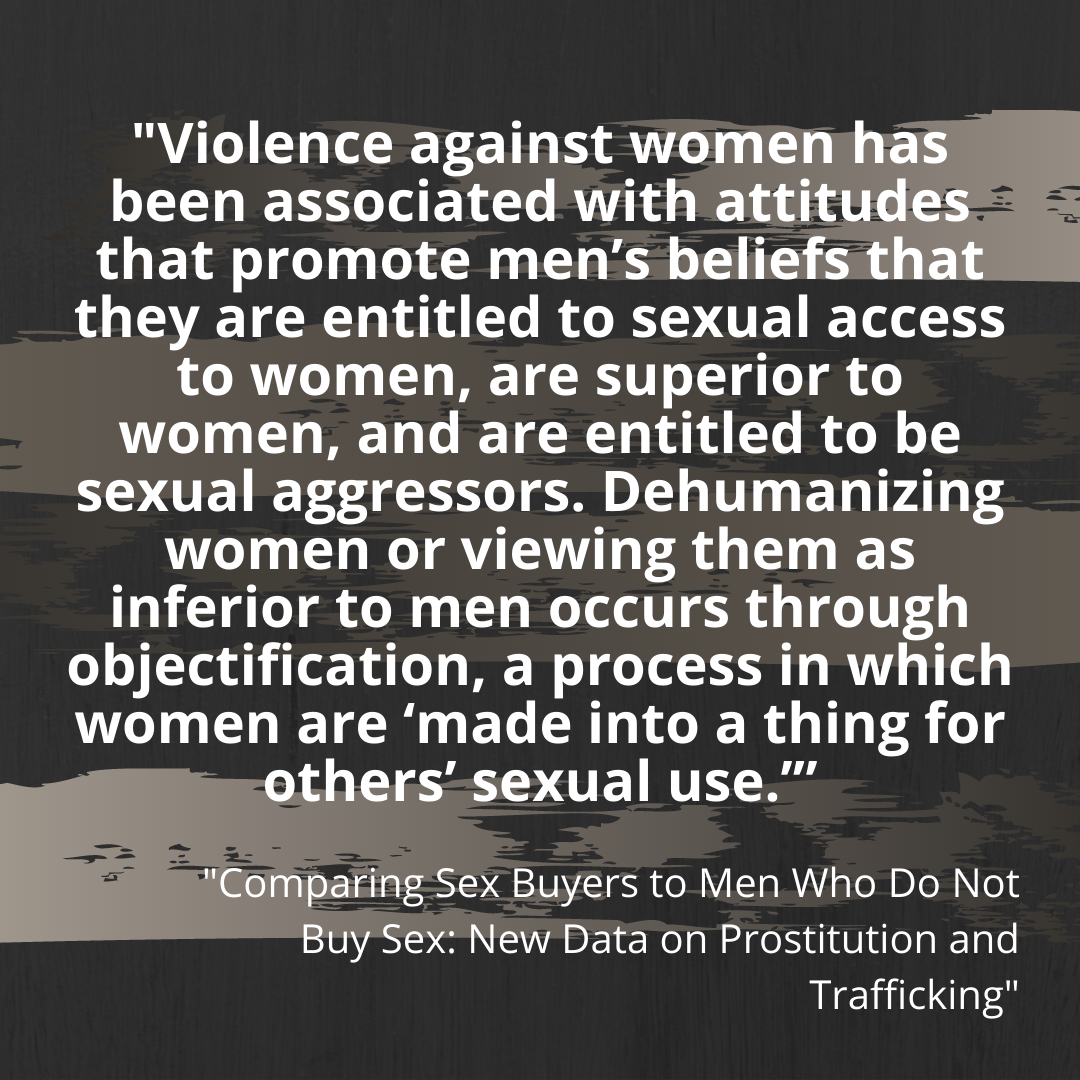 Who Are the Buyers?
Race has almost no profiling power when it comes to who is the sex buyer, however, the buyers' perceptions around the women they are attempting to purchase have a lot to do with who is in demand to be purchased in the commercial sex industry.
Buyers are found across the income distribution with one important exception: currently active high-frequency buyers are much more likely than other men to make $100,000 or more annually. High-frequency buyers, based on income levels alone.
With that, white men are disproportionately represented as sex buyers in demographic data from various studies.
• In King County, Washington, 80% of sex buyers are white men.
• A 2017 study on sex buyers in Minnesota found that the majority of buyers in their state are white, middle-to-upper class, married men.
• In a 2012 study of men who use the internet to buy sex, researchers found that virtually 85% of the buyers were white men.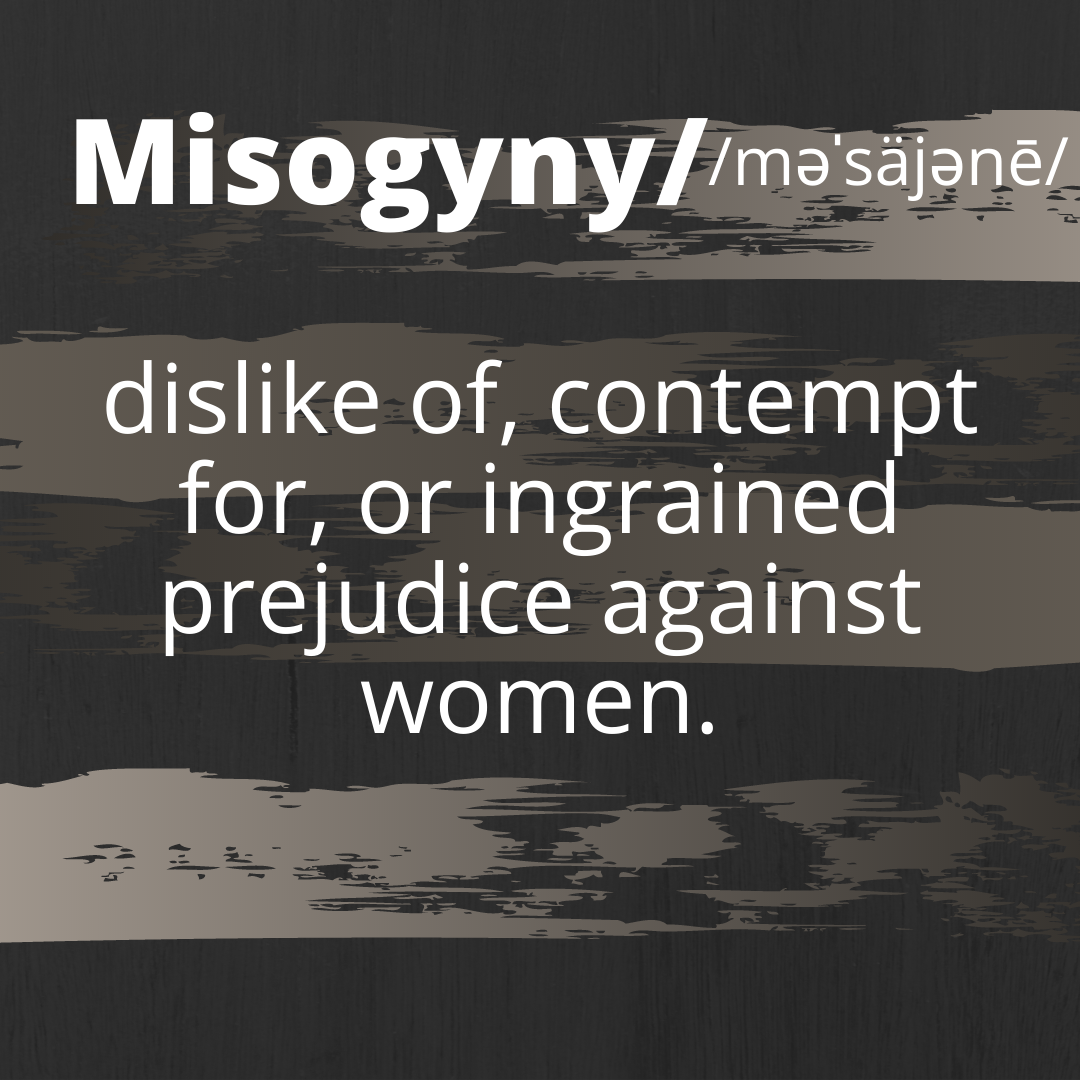 Misogyny At Work
Misogyny is a driving force behind the demand for commercial sex and it is also a cornerstone in violence against women and girls.
What seems to be consistent across the sex buying spectrum is they are predominantly men who have gendered ideas, not only about what masculinity entails but also the role of women and people who are identified in the LGBTQ+ community.
These buyer's perceptions are misogynistic and laced with male supremacy ideals. From the predominant reason for buying sex as fulfilling a "need" or it's just "guys being guys."
These ideals are a mirror up to rape culture. At the end of the day, if purchasing a woman or girl for sex is a simple matter of "guys being guys" in the view of the buyer, then they are putting themselves above the woman/girl they are buying and showing a clear prejudice and entitlement.
According to the study "Comparing Sex Buyers to Men Who Do Not Buy Sex: New Data on Prostitution and Trafficking," "Violence against women has been associated with attitudes that promote men's beliefs that they are entitled to sexual access to women, are superior to women, and are entitled to be sexual aggressors. Dehumanizing women or viewing them as inferior to men occurs through objectification, a process in which women are 'made into a thing for others' sexual use.'"
This study's lead author Melissa Farley executive director of Prostitution Research and Education, a San Francisco-based nonprofit said to the UCLA newsroom, "We hope this research will lead to a rejection of the myth that sex buyers are simply sexually frustrated nice guys."
"Our findings indicate that men who buy sex share certain key characteristics with men who are at risk for committing sexual aggression," said Neil Malamuth, a professor of communications studies and psychology at UCLA and co-author of Comparing Sex Buyers to Men Who Do Not Buy Sex: New Data on Prostitution and Trafficking .
"Both groups tend to have a preference for impersonal sex, a fear of rejection by women, a history of having committed sexually aggressive acts and a hostile masculine self-identification. Those who buy sex, on average, have less empathy for women in prostitution and view them as intrinsically different from other women."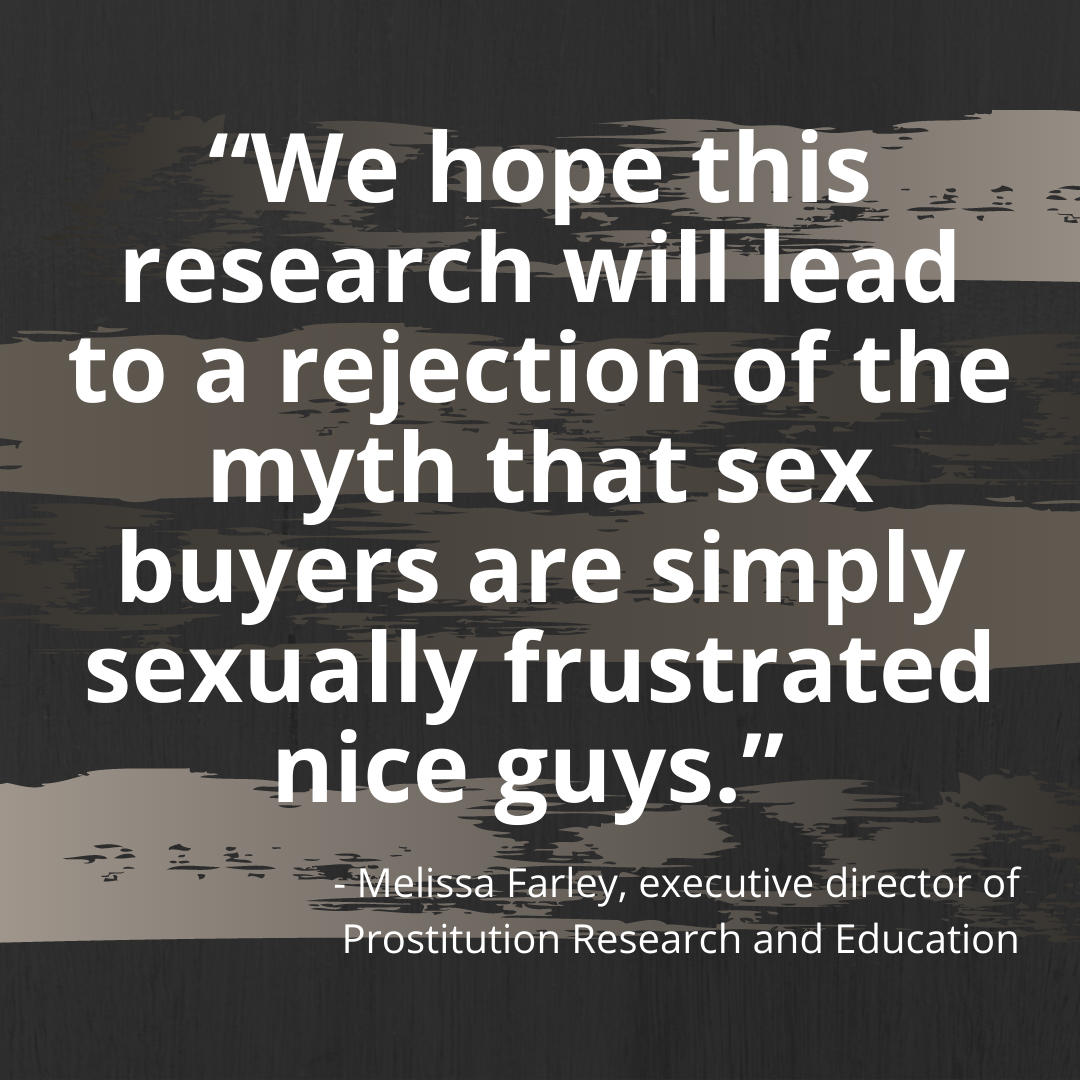 Racialized Misogyny
The history of exploitation of women of API descent also leads us to the history of racialized misogyny in the U.S.
Racism, misogyny and exploitation is a tale as old as the colonization of the United States, but it also is a tale of world history.
READ: Systemic Racism Feeds Human Trafficking
READ: Victimization & Resiliency – Native American women and girls are disproportionately trafficked
Throughout history women of Asian or Pacific Islander descent were seen by predominantly men as "exotic" and "submissive," based on the falsely propagated narrative of the media and leadership, along with differing cultural norms.
"Law enforcement and society in general tends to really not understand how racism and hate and prejudice is directed toward Asian-Americans, and certainly not understand how it's directed toward Asian-American women. So the instant reaction is generally to discount and dismiss it," said Helen Zia, an activist and author who has tracked anti-Asian violence told the New York Times in the piece "How Racism and Sexism Intertwine to Torment Asian-American Women."
This is not only a U.S. problem, however, globally racialized misogyny has plagued women of API descent, from forcing women into prostitution during various wars in Asian countries and calling them "comfort women," for soldiers. To this day, academics and countries alike have failed to recognize the brutalization of women of API descent.
Misogyny has also led to several attacks around the world.
READ When Women are the Enemy: The Intersection of Misogyny and White Supremacy
People, mostly men, have fetishized Asian women to such an extent that according to PornHub's annual report "Japanese," "Korean" "Chinese" and "Asian" are in the top 20 search results of porn on the site.
The racism of the pornography industry – and the pervasiveness of it – fuels the exploitation of women of API descent further. It also fuels the exploitation of black and indigenous women of color, as well.
The Nature of Illicit Massage Businesses
There are an estimated 9,000+ illicit massage businesses open in the United States that are estimated to make $2.5 billion, according to Polaris.
On a national scale, IMBs (illicit massage businesses) is an industry that comes in second behind escort services for the prevalence of sex trafficking.
This illicit business is rife with exploitation to the most extreme degree in the form of both sex and labor trafficking.
On a national level, IMBs are alarmingly prevalent, and North Carolina is not immune to this industry that is always shifting and changing.
Most victims of human trafficking who are found in the IMBs are women from China and South Korea (with some from Thailand and Vietnam) between the ages of 35 to 55 years old.
We must address why illicit massage businesses have become so lucrative and sprawling, and the short answer to that is demand based on a history of dehumanizing policies and rhetoric around Asian/Pacific Islander women in the United States.
LEARN MORE ABOUT ILLICIT MASSAGE BUSINESSES HERE.
READ PREVIOUS NEWSLETTER: ILLICIT MASSAGE BUSINESSES AND HUMAN TRAFFICKING
---
They Deserved More Than This
As the demand increases, and API women become more objectified, stigmatized and ostracized, it comes as no surprise that there are 9,000+ illicit massage businesses in the United States with the majority of women in those businesses of Asian or Pacific Islander descent.
Those same women are likely being exploited for labor and sex, enduring violence and unacceptable living conditions. They deserve a life with freedom and choices.
If some of these women are working in these illicit massage businesses by free choice, they should not be arrested and they should be treated as humans.
They are worth so much more than what the spokesperson for the Cherokee County Sheriff's Office Capt. Jay Baker dismissed as "… he was pretty much fed up, and kind of at [the] end of his rope, and yesterday was a really bad day for him and this is what he did," in describing the actions of a mass shooter who took the lives of Suncha Kim; Yong A. Yue; Hyun J. Grant; Soon Chung Park; Delaina Ashley Yaun; Paul Andre Michels; Xiaojie Tan; and Daoyou Feng.
READ "The Atlanta Shooting and the Dehumanizing of Asian Women" by Jiayang Fan