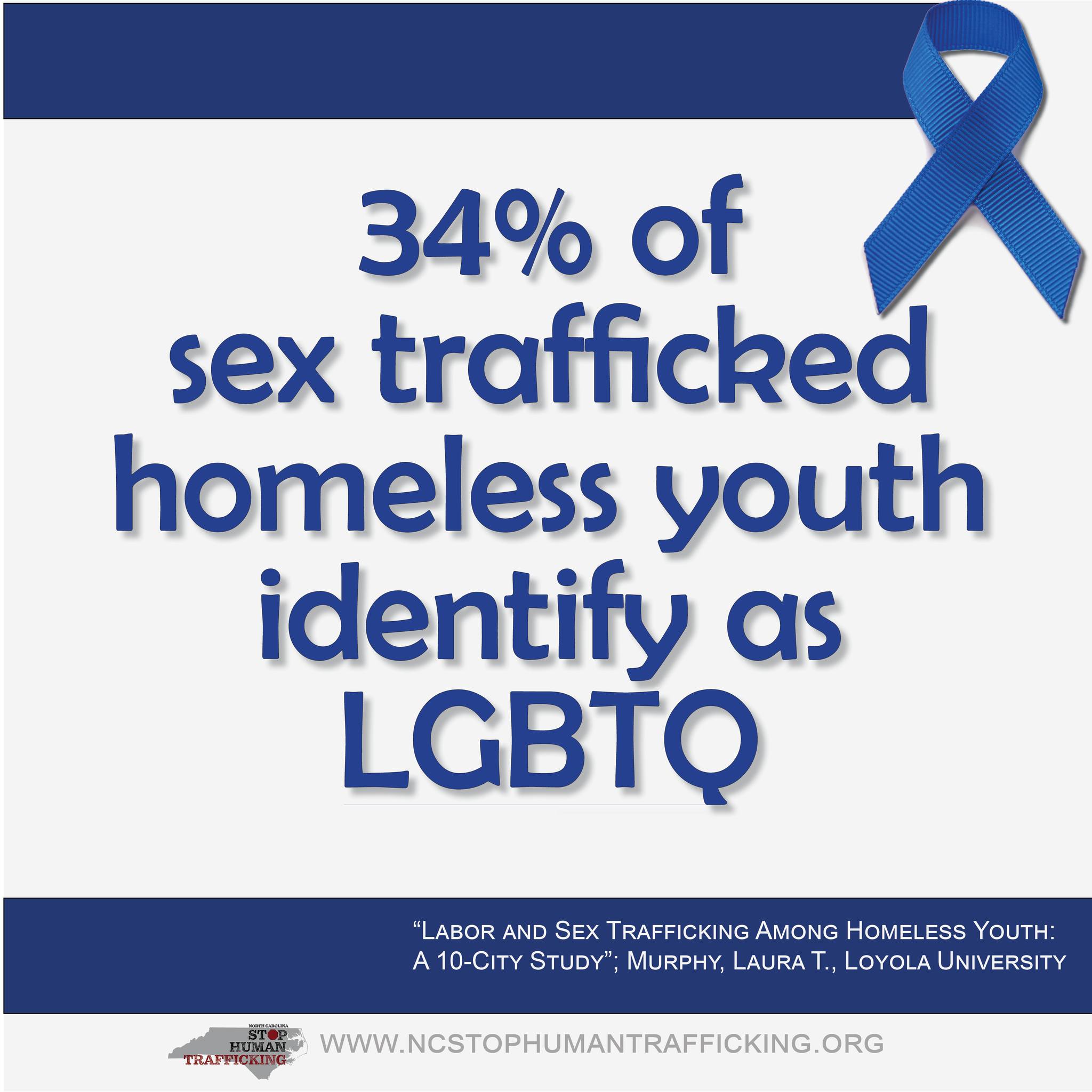 The U.S. Department of Homeland Security maintains that human trafficking victims are targeted because they are vulnerable in some manner. This vulnerability may stem from a variety of causes, including psychological, physical, and emotional issues. Traffickers prey upon victims' vulnerability.
Certain populations are more vulnerable to human trafficking than others, and the LGBTQIA+ community is one of those populations. Loyola University's Center for the Human Rights of Children presents that the "LGBTQ population is three times more likely to engage in survival sex, when compared to their cisgender and heterosexual peers." The U.S. Department of Health and Human Services reveals that "LGBTQ youth account for up to 40% of the runaway and homeless youth population."
The vulnerability of the LGBTQIA+ community often stems from the biases that surround it.
Because people are rejected or judged for their sexuality, beliefs, and preferences, traffickers can pose as a solution to their struggles. These traffickers only intend to take advantage of these vulnerabilities through coercion.
With persistent bias and discrimination, the LGBTQIA+ community is unable to thrive. A history of homelessness, as well as complications with upbringing, education, and substance abuse, hinder this community. When it comes to human trafficking, there is a primary reason why this community is underrepresented: underreported human trafficking cases.
According to Polaris, the LGBTQIA+ community makes up 1% of reported cases when "33.8% of sex trafficked homeless youth identify as LGBTQ." One of the main reasons for underreported human trafficking cases is the social stigma surrounding the LGBTQIA+ community. Polaris explains that the survivors don't always feel that reporting a case is the safest option. They fear what others will think of their identity if it is exposed. This causes distrust towards their families, law enforcement, and even service providers.
The lack of attention towards LGBTQIA+ human trafficking cases even extends to other vulnerable populations, such as those who are homeless, runaways, migrant workers, and youth. There are many shared struggles between these populations, but the Office for Victims of Crime reminds us that we must work towards establishing services that are not only trained in helping human trafficking victims, but also specific populations.
We need to understand each community and the specific trauma and fear that comes from their unique perspectives. In the case of the LGBTQIA+ community, task forces should remember that it can be difficult to identify an LGBTQIA+ human trafficking survivor solely based on physical appearance. It is also crucial to provide services that reflect a survivor's age, culture, and experiences. Assurance of thorough and compassionate services could incentivize LGBTQIA+ survivors to report more cases, which in turn can help us provide them with proper care and safety.
By taking these additional measures, we can help these communities thrive and prevent the likelihood of human trafficking:
Creating community: providing a safe and accepting space for the LGBTQIA+ community can mean many things. We can open ourselves towards a compassionate, knowledgeable world, or even create physical spaces (such as LGBTQIA+ centers) for this community to feel heard.
Improve opportunities for housing: a great percentage of human trafficked LGBTQIA+ youth consists of homeless or runaway survivors. Taking measures to create housing opportunities for the LGBTQIA+ homeless and runaways offers more safe spaces for this community.
Changing legislation: writing to political leadership and taking a stance on political issues can help provide more legal opportunity for this community. The Equality Act is a prime example of LGBTQIA+ community representation in legislation.
– By Lauren Hapgood, content creator
You can reach Lauren by emailing info@ncstophumantrafficking.org